If you are new and want to let everyone know you've arrived, you might try doing a mural, a big one, preferably on the side of a public building that can't be missed. Bronwyn Schuster arrived on Denman just over a year ago. Thanks to Covid relief funding for artists from Arts BC in early 2021, the south wall of the Denman Seniors Activity Centre is now completely covered by what Bronwyn describes as her "love letter" to the Pacific herring. A first experience of the annual herring spawn was the inspiration, the colours of the milt-infused sea, and the passionate efforts to conserve a threatened natural wonder. Where there was a blank wall of cream-coloured cement blocks, a sea spirit now gracefully feathers a school of herring through their arms as they rise towards the moon against a luminous night sky. The composition commands the wall with a calm, rhythmic sweep in vivid, harmonious tones of purple, yellow, and russet red. It has a magical quality that owes something to the tales of Han Christian Andersen and the Danish folklore Bronwyn came to know as a child, strongly influenced by her Danish grandfather. "I think of the sea spirits as preserving and protecting what they are themselves a part."
The mural was one of four designs submitted to the DSMS board, each quite different and equally assured, an indication of her imaginative range.
Bronwyn's involvement with murals began at a 2017 Vancouver mural festival where training was offered to encourage artists to translate their art into murals. Murals have technical challenges of scale, architectural context, and materials, especially if they are outside. Scaling can be done several ways: by blowing the design up using projection, mapping to a grid, or just making your own map of reference points with freehand markings. The sheer size of the Activity Centre wall looks daunting in that regard. Fortunately, Bronwyn found that the cement blocks of the wall formed their own grid, with two pilasters, the full height of the wall, adding vertical references.
In her own words, the design is "graphically inspired" which is to say, the mural is a gigantic drawing. If so, Bronwyn's approach to drawing itself is carefully considered, even, one might say, analytical, and not just a freehand riff. She says she draws at three different levels: figures, seen as shapes, tonal variation, and variation of line. She tries to achieve balance, and to create room for "the eye to breathe" orchestrating clear space with detail. This accounts for why the Activity Centre mural is so immediately comprehended, with a restful effect. As an ecological fairy tale, it is a highly structured graphical narrative.
Bronwyn comes to art through her parents. Her mother is a painter, her father created geometric art in his youth. She thought she might do other things with her life, but she was always drawing, and ended up taking a year of art education at the Swedish Academy of Realist Art.
The arts program was rigorously traditional, stressing the practical skills needed to produce figurative, "realist" art, without any academic dimensions (essays, seminars and what have you), on the model of the atelier. But she wanted the skills to do better portraits, one of her primary interests, so the program fit the bill. "It was not great for my creativity," she recalls, but she got what she wanted and thoroughly enjoyed herself, even though it took her three or four years "to recover my voice." She went on to study in Vancouver at the SmArt School, founded in 2011, to work with those art students, self trained artists, and working professionals who "find themselves stranded and looking for more." There she worked on her illustration which she describes on her website as "a blend between magical fiction and everyday realism, sometimes infused with a dash of humor."
Bronwyn used to do a lot of paintings "for their own sake", displayed in galleries. The Denman Craft Shop has a few miniature paintings, and she is working on a series of alphabet illustrations using mermaids for each letter. Some of her Space Cat paintings went surprisingly viral on the net. But she also loves taking the requirements of others and conceptualizing them through art, the Activity Centre mural being an outstanding case in point. In Vancouver, she was making about half her income from design projects. Now she is training on game art, the conceptual realization of characters or objects in one dimension (such as board games) and 2-D where the technical demands are relatively simple. Sword-guns, antler-handled daggers with nasty blades – Bronwyn's got what they want: imagination armed with a paintbrush. The big money is in 3-D games, but that doesn't interest her right now.
We come to the inevitable question, Why Denman Island? Part of the answer is Eastend in SW Saskatchewan, on the edge of the Cypress Hills, which she describes as 'a small town of five hundred people and a Tyrannosaurus Rex' (and birthplace of famed author Wallace Stegner). Her parents moved there from Banff and Calgary. She loved the sense of community, of getting to know people (something not so easy in Vancouver, she feels), even if she is also perfectly content to simply go off on her own into the woods.
There is something more given Bronwyn's folklore heritage. "I grew up," says she, with a knowing smile, "in a pagan household."
Bronwyn Schuster by Nel Robin
Occult Cowboy – Paladin of Justice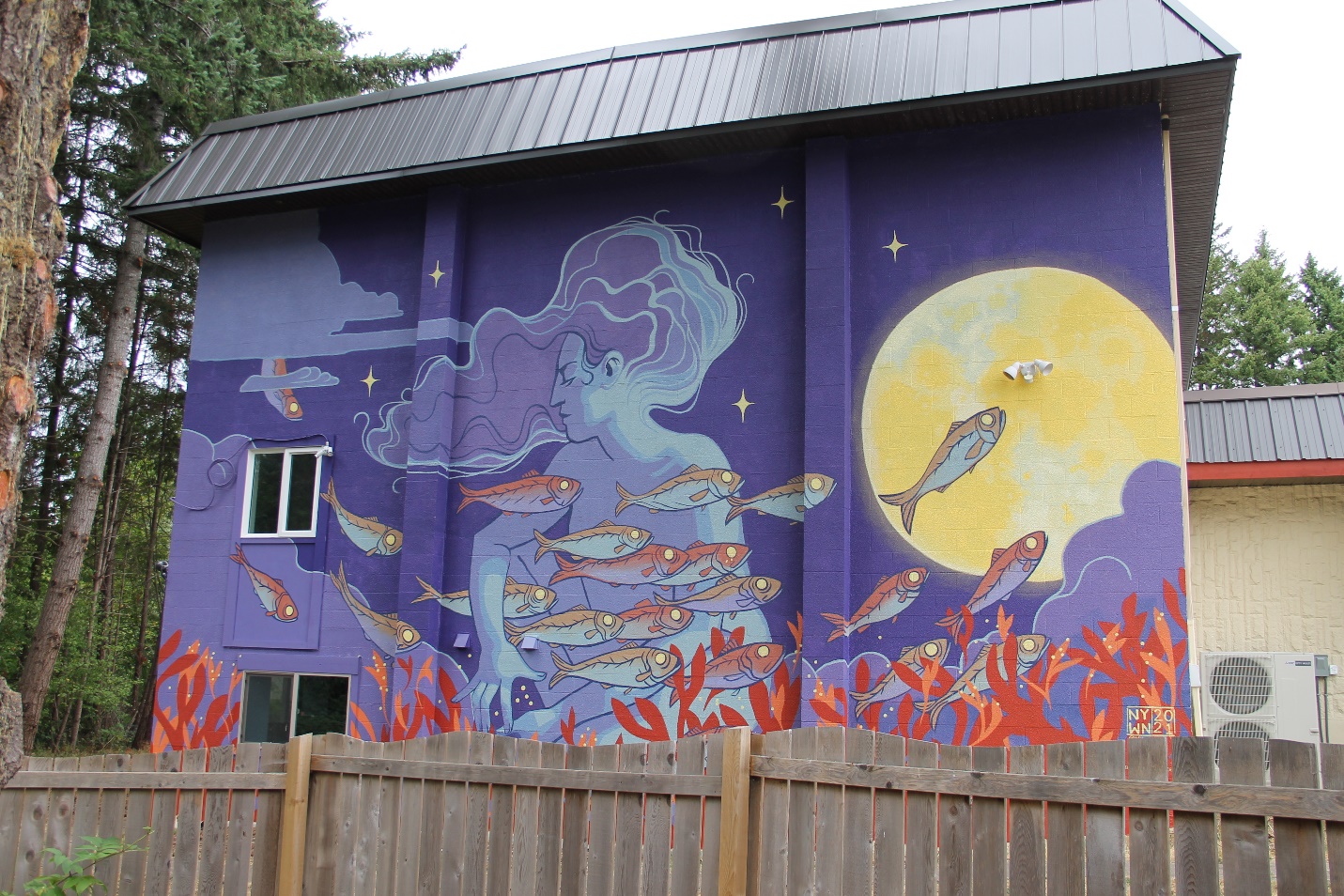 Herring Moon